Stonehugger Cemetery Restoration in the News (archived)
Over the years, a number of our projects have been visited and written about by local news media. Coverage of our work tends to enlighten and inform the local community about the important work of pioneer cemetery restoration and preservation, so we always welcome reporters when we are working in a cemetery. This page is our newsprint scrapbook documenting some of the more memorable articles that were written about Stonehugger Cemetery Restoration, Inc. and the cemetery restoration projects we have been involved in throughout the Midwest.



News:
Thomas, David; Front End Developer for Shaw Media
DeKalb Township to restore headstones (link)
Daily Chronicle; DeKalb, Illinois; August 18, 2012

Mott, Gracie; Sales and Fulfillment Representative for eWorldLinx
DeKalb Township starts Evergreen Cemetery restoration project (68K pdf)
DeKalb County Online; DeKalb, Illinois; August 17, 2012

Chris Schilling; Senior Reporter
Sandhill Cemetery ravaged (68K pdf)
The Republic; Columbus, Indiana; April 17, 2012

Rocha, Toni; News Correspondent
Restoration continues at Rockton Township Cemetery (1M pdf)
Beloit Daily News; Beloit, Wisconsin; September 17, 2011

Brumleve, Will; Associate Editor and Reporter
Preserving the past: Pine Ridge Cemetery being restored, grave by grave (216K pdf)
Paxton Record; Loda, Illinois; August 31, 2011

Tilghman, Shaun; News Editor
Chester Township board funds local cemetery restoration (56K pdf)
North Manchester News-Journal; North Manchester, Indiana; August 10, 2011

Bronze Good Citizenship Award from the Indiana Society of the Sons of the American Revolution, July 30, 2011
Compatriot Ed Hitchcock presented the SAR Bronze Good Citizenship award to Helen Wildermuth. At her expense as a public service, she picked up the stones and set each one of them in separate cemeteries. One stone was for Rev. War Patriot John Carney buried in Bick Farm Cemetery and the other stone was Rev. War Patriot Nicholas Jones in Jones/Yeley Cemetery.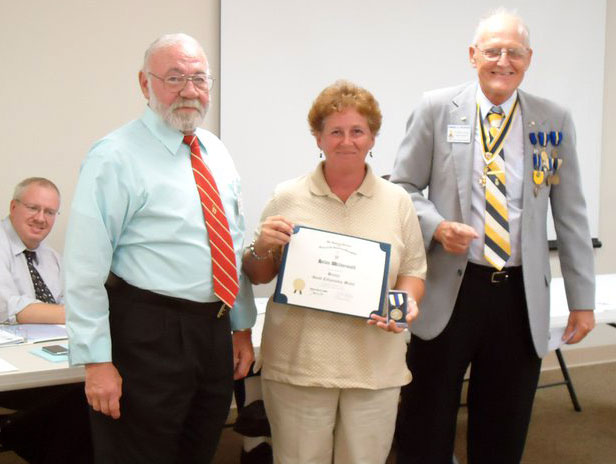 Pictured left to right, Dave Betzner INSSAR Pres, Helen Wildermuth and Edward Hitchcock who serves on the Revolutionary War Graves committee of the INSSAR.

Kelly, Terry; Palatine Township Assessor
Pioneer cemeteries in Palatine Township being restored (link)
Daily Herald; Arlington Heights, Illinois; October 7, 2010

Kelly, Terry; Township Assessor
Pioneer cemeteries being restored (44K pdf)
Trib Local; Palatine, Illinois; October 1, 2010

Stanley, Greg; Staff Writer
Rockton township cemetery to restore 60 headstones (48K pdf)
Rockford Register Star, Rockford, Illinois; September, 14, 2010

Inman, Nicole; Correspondent
Stonehuggers restore cemetery (94K pdf)
Beloit Daily News, Beloit, Wisconsin; September 14, 2010

Fahr, Matthew; Armada Times Reporter
Lee Cemetery restoration nearly complete (84K pdf)
The Voice, Armada Times; September, 8, 2010

Kelly, Terry; Assessor Palatine Township
Pioneer cemeteries presentation set (340K pdf)
TribLocal.com; September, 2, 2010

Kelly, Terry; Assessor Palatine Township
How to Care for our Pioneer Cemeteries Presentation (156K pdf)
Trib Local; Palatine, Illinois; August 27, 2010

Fak, Mike; Managing Editor
Old Union Cemetery restoration allows past veterans to be recognized and honored (1M pdf)
Lincoln Daily News; Lincoln, Illinois; July 16, 2010

Peverly, Ryan; R-H Staff Writer
Harrison trustees restoring local cemeteries (244K pdf)
The Register-Herald; Eaton, Ohio; May 12, 2010

Valentine, Erin; Associate Editor
Restoring Stones to their Original State (320K pdf)
Township Perspective; Springfield, Illinois; April 2010

Short, Christopher
County history gets a facelift (40K pdf)
The Paper of Montgomery County (online); Crawfordsville, Indiana; March 31, 2010

Richmond, Bill; City Editor
Cemetery restoration project nears completion (link)
Winchester News-Gazette; Winchester, IN; April 10, 2009

Staff Writer
Founders Cemetery restored (106K pdf)
The West Milton Record; West Milton, OH; October 1, 2008

Staff Writer
Pair care for old cemetery stones (link)
Greencastle Banner-Graphic; Greencastle, IN; August 5, 2008

Ray, Erika; Blade Staff Writer
Harris Township 273 tombstones repaired in cemetery near Elmore (36K pdf)
Toledo Blade; Toledo, OH; August 9, 2007

Ingram, Ron; H&R Staff Writer
Tilted headstones made right again - Township may continue work at Greenwood Cemetery (96K pdf)
Herald & Review; Decatur,IL; May 7, 2007

Zurbrick, Kristy
No stone unturned (140K pdf)
Madison Messenger, Vol. XXI, No. 52; Madison, IN; November 20, 2006

Staff Writer
Local Cemetery Landmarks Restored (236K pdf)
Crothersville Times, Vol. 26, No. 19; Crothersville, IN; May 11, 2005

LeCount, Joy
Stewart-Griesinger Cemetery gains statewide attention (272K pdf)
Albion New Era; Albion IN; July 28, 2004

Nartker, Dennis
Together we can restore dignity, Lake View Cemetery's grave markers to get much-needed care (300K pdf)
The News-Sun, Kendallville, IN; July 25, 2004

Mills, Joe
Helen Wildermuth Named Preservationist of the Year at Annual Meeting (159K pdf)
Preservation News, Morgan County Historic Preservation Society; July 2004
Home - Projects - News - Honoring Patriots - References - Photos - Other Services - Resources - About - Contact