B'ne Zion Cemetery
...Many of these stones had been overtumed and broken by a band of vandals and it was a heart-breaking sight.

Then, almost miraculously, Helen Wildermuth, founder and manager of Stonehugger appeared. She appraised the situation as complicated, but fixable. With her crew of hardworking employees, she has restored the cemetery to a "good as new" status... In three and one half days the cemetery was transformed.

Maurice G. Levine, Trustee
Congregation B'ne Zion Cemetery
Canaan Township Trustee
...I would like to express our thanks for doing an excellent job on the Big Darby Cemetery restoration project. Your work, the complete photo history and printed history in binders is an excellent documentation of this process. We would gladly recommend your service to other organizations in the future. Please do not hesitate to use us a reference.

Lisa I. Beachy, Fiscal Officer
Canaan Township Madison Co.
Elizaville Cemetery Association
...We contracted with Helen in the Spring of this year to repair, restore and clean the stones in our local cemetery at Elizaville. By August the work was finished, the appearance of the cemetery is now a source of pride to the community once again.

The Stonehugger group not only cleaned and restored the existing stones, they located stones that had been buried under the sod for years. These forgotten stones are once again standing proudly in their original places. The group also cleaned out vines and yucca plants that had overtaken the cemetery, a job that was over and above our expectations.

Ms. Wildermuth documented each and every stone in the cemetery. which is a priceless asset to our Elizaville Cemetery Association. The book that she makes up will be a wonderful historical tool for future generations...

Charles W. Warburton, President
Elizaville Cemetery Association
Fall Creek Township Trustee
...To preserve our history, we hired Stonehugger Cemetery Restoration as we undertook a $300,000 restoration project of the nine cemeteries in our care. Helen and her crew did an amazing job of restoring and repairing hundreds of headstones. Many of these headstones were severely damaged, with some parts undistinguishable. Stonehugger was able to not only piece them back together, but clean them so well that they are clearly readable again. The headstones were reset to their proper place and look practically new again. After each cemetery was completed, we were presented with a binder of before and after photos, as well as information on each headstone. We have had a lot of feedback from family members appreciating the work that was done to honor their loved ones.

Doug Allman, Trustee
Fall Creek Township Trustee Office
Henry County Cemetery Commission
...I had the pleasure of meeting Helen after she had driven 2 plus hours, to assist Henry County in a time of need after a vandalism incident in one of our cemeteries here in our county. Over 80 cemetery markers had been toppled and broken. Immediately I was impressed with her dedication. She has since volunteered many times to our county, and is a major force in Our Henry County Day of Caring in Cemetery Restoration Projects. I can attest that her work is very professionally done, as she is her own worst critic and strives for perfection.

...She has gained a wonderful reputation not only for the physical work she does, but also with her research and documentation of Pioneer Cemeteries. She is very dependable, honest and hard working in her field.

Donna Tauber, President
Henry County Cemetery Commission and Spiceland Township Trustee
The Home History Fund
It is still hard for me to believe the difference...

Your work will help preserve the history of one of the greatest children's homes in Ohio and the United States. Your company and yourself are a credit to history wherever you go.

It's a pleasure to know you and to have you work on this site, so important to all the alumni of our orphanage. Our history will be preserved in part because of your ability to understand the community the cemetery represents.

William H. Chavanne, President
The Home History Fund, Columbus, Ohio
Lake View Cemetery Revitalization Project
...The hard work and care you put into our stone restoration project was above and beyond what we expected. There is no way to truly express our gratitude for a job well done.

I can tell you that people from the community are still telling us how pleased they are with the clean bright repaired stones. Pride has been restored to Lake View Cemetery.

The documentation in the restoration books is perfect.

...Thank you again. It was an experience none of us will forget.

Diane F. Peachey
Project Organizer
Memorial Grove Cemetery Restoration Project
...Your attention to detail and determination to "make everything right" are above reproach and the intensive manual labor involved was simply mind-boggling, not to mention the twelve and fourteen hour days that you and your crew put in.

I would also like you to know that of the many, many comments coming from the citizens of Orland and surrounding community there have been none that were negative. Everyone seems to feel the same way that I do, they simply cannot believe the transformation of that old cemetery. After over 175 years of neglect it is now as close to its original beauty as humanly possible. For the first time in many, many years it will be a source of pride for the community rather than a run down eyesore...

Howard L. Elliott, Millgrove Township Trustee
Steuben County, Indiana
Riverside Cemetery Association
...The transformation of Riverside Cemetery over the past three years has been unbelievable. What once was an area of broken, tilted, and dirty pioneer tombstones is now a pristine tribute to our area's pioneer settlers. This is due to the professional efforts of Helen and her proper restoration techniques. I am constantly receiving compliments on how nice Riverside now looks. I would recommend Helen Wildermuth of Stonehugger Cemetery Restoration to anyone wishing to have their cemetery restored or just have a few stones repaired. You will be pleased with the end results.

Kyle D. Conrad, Secretary
Riverside Cemetery Association
Trueblood Family Cemetery
...All my life I had heard about the Trueblood Cemetery, but had never been able to even find it. ...My father was saddened it had fallen into such a state of disrepair...

Last fall, we decided to try, once again, to locate the cemetery. We were so pleasantly surprised to finally find the Trueblood Cemetery where our great great, and great, great, great grandfathers are buried, along with other ancestors.

I cannot describe to you the feeling we had when we not only found the cemetery, but found it so beautifully restored. ...you should be very proud of your accomplishment!

Kay (Trueblood) Schnuck
Muncie, IN
Union Township Trustee, Montgomery Co., IN
Helen Wildermuth, Stonehugger Cemetery Restoration, has been restoring 14 cemeteries for Union Township, Montgomery Co., Indiana. She has been careful not to use any chemicals on the stones to restore them, close to their original state.

We and the community have been extremely pleased with her work from the cemetery project. Her work has improved the neighborhoods, geneological records, and the history of the area...

Glenna Nevitt, Union Township Trustee
Montgomery County, Indiana
Union Township Trustee, Tippecanoe Co., IN
Helen Wildermouth started restoring cemeteries in Union Twp, Tippecanoe County in 2006. Since then she has restored 4 more. Her excellent work, paying attention to details, has caused more favorable comments toward the Township than anything we have done...

...Helen's work is superb in every way.

Bob McKee, Union Township Trustee
Tippecanoe County, Indiana
White Lick Cemetery Committee
...Please accept the appreciation of our Cemetery Board for the excellent work accomplished on our behalf. We compliment you both on the thoroughness of your work and the fact that it was completed more quickly than set out in the original proposal. The professionalism of you and your staff is obvious by the results obtained.

We want you to know that your work has greatly improved the appearance of our cemetery, even more so than we expected. We also greatly appreciate the restoration documentation that will be useful not only for us, but for all of our future committee members...

Again, thank you for your assistance on this project.

Norman Connell, Chairman
White Lick Cemetery Committee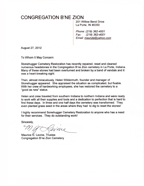 click to view entire letter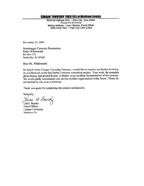 click to view entire letter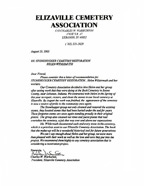 click to view entire letter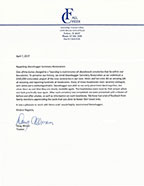 click to view entire letter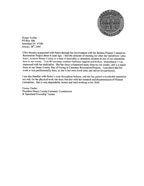 click to view entire letter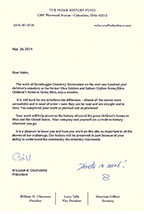 click to view entire letter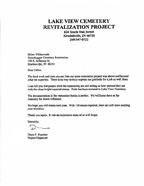 click to view entire letter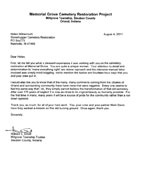 click to view entire letter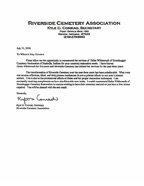 click to view entire letter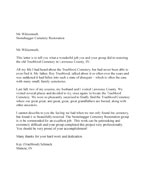 click to view entire letter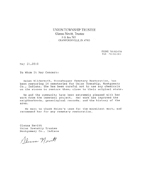 click to view entire letter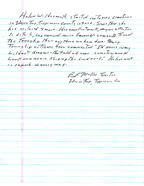 click to view entire letter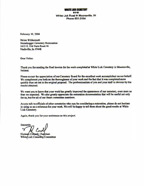 click to view entire letter