Honoring Our Patriots
They gave their today for our tomorrow
At Stonehugger Cemetery Restoration, we believe it is important to continue honoring veterans because it is a way of acknowledging the sacrifices they have made while serving their country. Without the service of veterans, Americans may not have the freedoms they do today.

Servicemen and women who serve in wars often undergo great sacrifices. Some are killed in action, and some are badly injured. Even those who leave the military unscathed have had to endure sacrifices such as long separations from their families and putting their personal lives and civilian careers on hold. Honoring these veterans is a way for Americans to offer thanks for their sacrifices.

Honoring a veteran can be as simple as verbally expressing thanks to a veteran on the street or writing a letter to a soldier overseas. Some people volunteer their time by visiting wounded veterans in the hospital, delivering care packages to elderly or disabled veterans in need or looking after families of veterans who did not come home. Detailed below are the types of services that Stonehugger offers as a way to pay hommage to honor our fallen heros. (also some valuable resource links for locating, honoring and helping veterans)


Stonehugger "Hero" projects
Wreaths Across America
Every year Helen Wildermuth participates in
Wreaths Across America
through monetary donation and participation of wreath laying.
REMEMBER our fallen U.S. veterans. HONOR those who serve. And TEACH your children the value of freedom.

Indiana Society of the Sons of the American Revolution (SAR)
Grave Marker Dedication — Charles Kilgore II
August 6, 2017 at Kilgore Cemetery, Raglesville, IN (located in Daviess County), the Indiana Society of the Sons of the American Revolution hosted a grave marker dedication in honor of Charles Kilgore II. Charles was Great, Great, Great, Great Grandfather to Helen Wildermuth. Stonehugger restored this monument in preparation for this program as a contribution to the SAR and the community.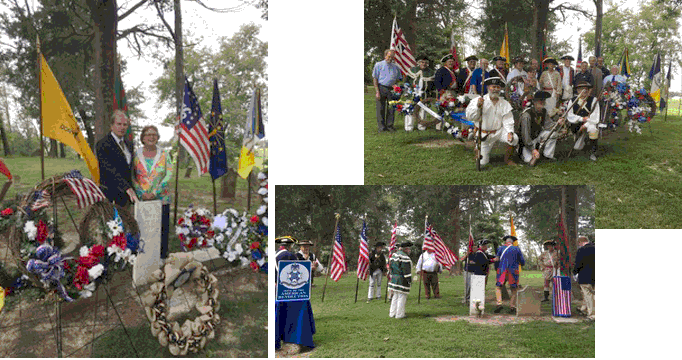 Charles Kilgore II and I (Helen Wildermuth) share a date in common. His day of death, Nov. 28th, was also my birth date. For most of my life, this was a fact unknown to me. I am ever grateful to my parents who taught me the importance of family, and family history. Many of our excursions brought us to this part of the state. My father was born and raised here. Many years ago, our trips brought us to this small rural cemetery. Doing our family tree was something my Mother taught me to appreciate. As you all know, information can be so confusing when there are so many members of the same family with the same names, generation after generation. Upon doing research about Charles Kilgore, I was humbled by the achievements in his life, the tenacity his family had for traveling to unknown places, and the ability to make these places home, and secure for future generations. The courage it took to enlist in the War in 1778, leaving his home and family at such a young age. He was enlisted when his family increased by the births of two sisters; when his brother Hiram perished in 1780 at Kings Mountain, NC, and when his father Robert died in 1782. I can only read the words in print from other sources to help me better understand the sacrifices made, and the gifts that this man and his family left for us all. I humbly stand at his grave and give thanks. 





War Memorial Cleaning
The Danville Optimist Club sponsors the cleaning of the War Memorial Monument on the northeast corner of the Hendricks County Court House Square in Danville. The War Memorial recognizes servicemen from Hendricks County who perished in World War I, World War II, the Korean War and the Vietnam War. The memorial was established in 1992 by the Danville Jaycees and Pittsboro Jaycees. The cleaning was performed March 26, 2017 by Stonehugger Cemetery Restoration Company, which is owned and operated by Helen Wildermuth. The cleaning was performed as a donation by Wildermuth who stated it was her opportunity to give back to the community.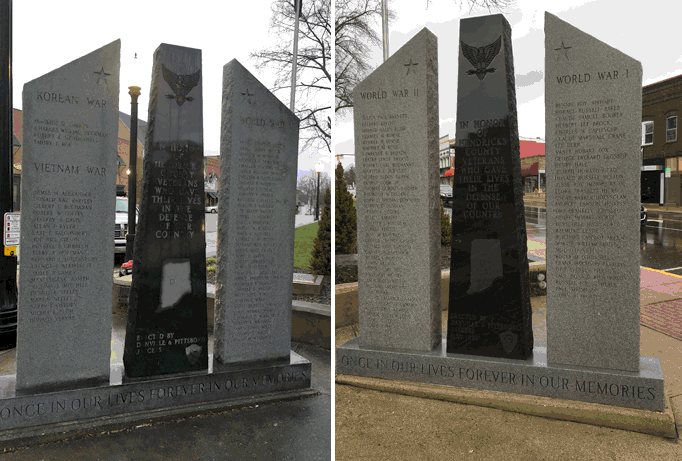 Indiana Society of the Sons of the American Revolution (SAR)
Grave Marker Dedication — Patriot Richard Williams
October 29, 2016 at Breckenridge Cemetery in Bedford, IN the Indiana Society of the Sons of the American Revolution hosted a grave marker dedication in honor of Patriot Richard Williams. Download program for the event. (1.2MB pdf). Richard Williams was Great, Great, Great, Great Grandfather to Helen Wildermuth. Stonehugger restored this monument in preparation for this program as a contribution to the SAR. Participants and guests were unaware it had been restored until the marker was unveiled during the ceremony dedication.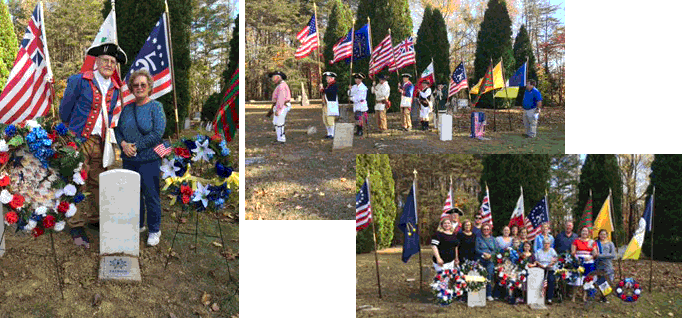 The National Society of the Daughters of the American Revolution (NSDAR)
September 2016, The
Caroline Scott Harrison Chapter, NSDAR
held a rededication ceremony to celebrate their restoration of a 100 year old monument the chapter had gifted to the State of Indiana in 1916.
Stonehugger Cemetery Restoratoin was contracted to restore this monument in preparation for this program.
The monument is located on the south lawn of the statehouse grounds and was dedicated to the National Road.
Download program for the event.
(745K pdf). The ceremony began in the beautiful south atrium of the Indiana Statehouse. Mr. Danny Lopez, Chief of Staff for Lt. Governor brought greetings on behalf of the State of Indiana and Indianapolis Mayor Joseph Hogsett brought greetings on behalf of the City of Indianapolis. Indiana DAR State Regent Lois Huntington brought greetings on behalf of Indiana DAR. Indiana Bicentennial Executive Director Perry Hammock and Executive Director of the Indiana National Road Association Michael Flowers were key speakers for the event. NSDAR National Vice Chair of Historic Preservation Elaine Sholty also addressed the audience on the importance of maintaining the monuments and historic markers for future generations. In attendance were over 20 descendants of the original civic leaders who attended the event in 1916.
Download information of leaders recognized and descendants participating.
(1.3MB pdf). The descendants were from Arizona, Florida, South Carolina, Bloomington, Greencastle, and Indianapolis. The ceremony continued outside, where the descendants removed an American flag originally flown over Mt Vernon, recreating the 1916 Mt Vernon flag unveiling of the monument. INDAR State Regent Huntington and Caroline Scott Harrison Regent Priscilla Austgen placed a wreath in memory and to honor the 1916 civic and DAR leaders who originally placed the DAR National Road monument. A Tea reception was held at the CSH chapter house after the event for all guests and DAR members.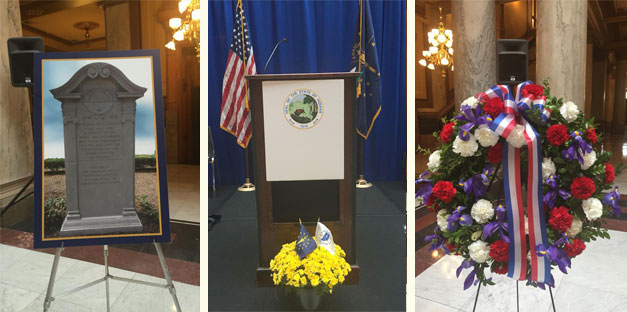 Indianapolis, Indiana; September 9, 2016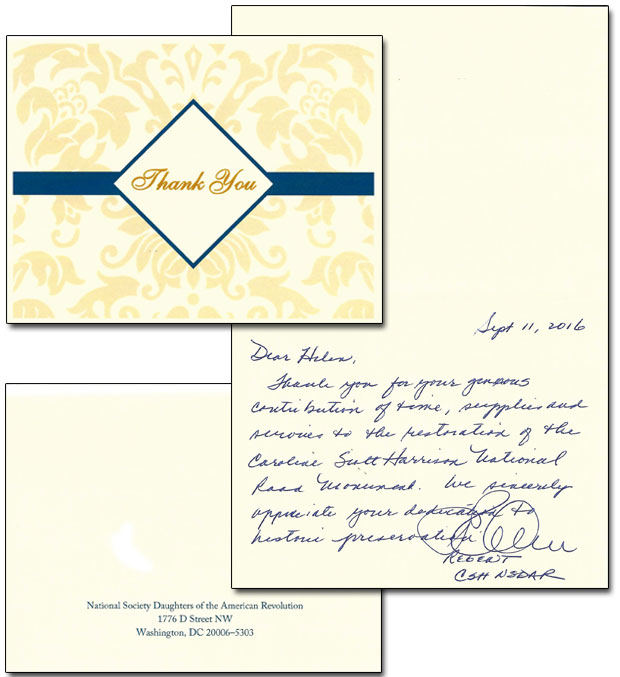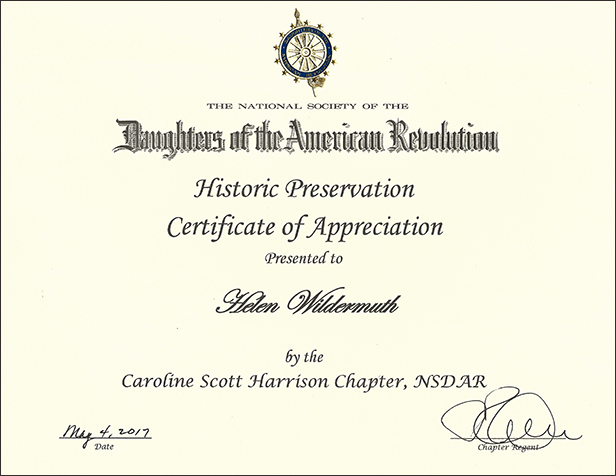 Vice President of the United States monument restoration
During a May 2014 restoration project at the City Cemetery in South Bend, Indiana, Stonehugger personnel had the priviledge of cleaning and restoring the monument of, Schuyler Colfax, the 17th Vice President of the United States. Vice President Colfax was born March 23, 1823 and died January 13, 1885. He was a United States Representative from Indiana (1855–1869), Speaker of the House of Representatives (1863–1869), and the 17th Vice President of the United States (1869–1873) under President Ulysses S. Grant.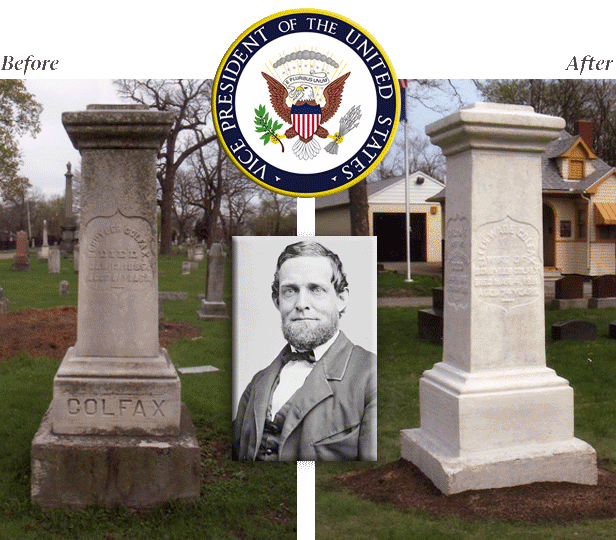 Pictured left and right, the before and after restoration images. Center is Schuyler Colfax.
Additional information on Schuyler Colfax available at the Biographical Data of the United States Congress web site.
Indiana Society of the Sons of the American Revolution (SAR) Award
Bronze Good Citizenship Award from the Indiana Society of the Sons of the American Revolution, July 30, 2011
Compatriot Ed Hitchcock presented the SAR Bronze Good Citizenship award to Helen Wildermuth. At her expense as a public service, she picked up the stones and set each one of them in separate cemeteries. One stone was for Rev. War Patriot John Carney buried in Bick Farm Cemetery and the other stone was Rev. War Patriot Nicholas Jones in Jones/Yeley Cemetery.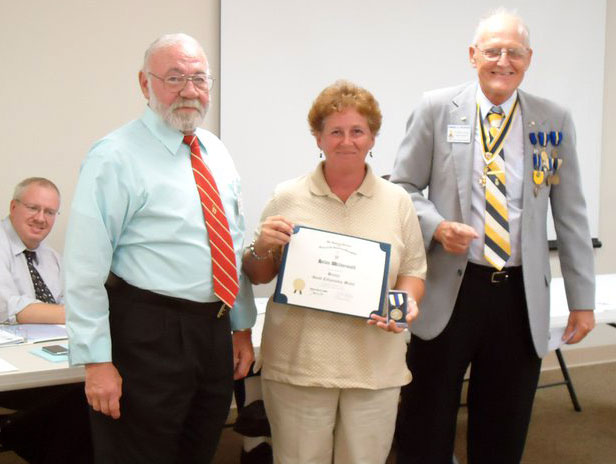 Pictured left to right, Dave Betzner INSSAR Pres, Helen Wildermuth and Edward Hitchcock who serves on the Revolutionary War Graves committee of the INSSAR.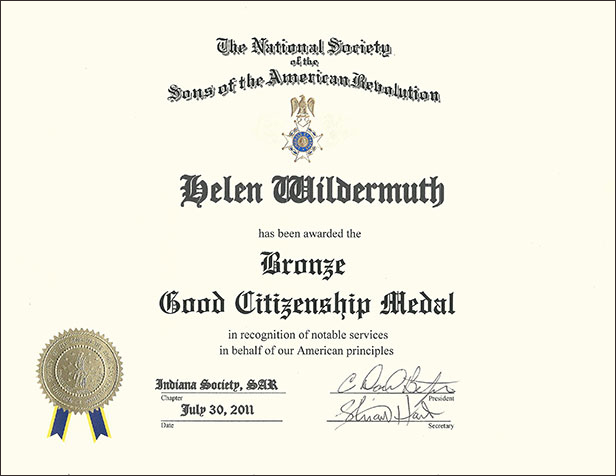 Resources for locating and honoring your veteran ancestor
Searching records and locating lost patriots
American Civil War Research Database
– the largest, most in-depth and fully searchable database of American Civil War soldiers and events (Annual fee of $25, but a noteworthy and valuable site)
Indiana Genealogical Society
– Society of Civil War Families of Indiana
National Archives Military Records
Vererans's Service Records
–
Locating Veterans and Service Members
–
Request Your Military Service Records
–
Replace Military Awards and Decorations
–
Browse WW II Photos
–
Vererans's Benefit Resources
Kentucky in the War of 1812
and other Military History Resources
History of American Wars
- Three Centuries of American Wars
Indiana Society of the Sons of the American Revolution
- Indiana Society
–
Searchable database for Indiana veterans
Sons of Union Veterans of the Civil War
National Graves Registration Database
Department of Veterans Affairs
Headstones and Markers, Burial and Memorial Benefits
Civil War
- Soldiers and Sailors System
Flags and flag holders
Burial Flags - National Cemetery Administration - Veterans Affairs
A United States flag is provided, at no cost, to drape the casket or accompany the urn of a deceased Veteran
Burial Flags - VA Office of Acquisition and Logistics (AOL)
The VA Service and Distribution Center (SDC) supplies burial flags to VA facilities and U.S. Post Offices (USPS) throughout the country and around the world.
Burial Flags | Military.com
A United States flag is provided, at no cost, to drape the casket or accompany the urn of a deceased Veteran who served honorably in the U. S. Armed Forces.
Burial Flags and Presidential Memorial Certificates
To honor the military service of a deceased Veteran or Reservist, we provide the next of kin or a close friend a United States flag to drape on the casket (or coffin) or to place with the urn. We also provide a Presidential Memorial Certificate (PMC). Find out how to get one or both of these honors.
The War of 1812 Kentucky Battle Flag
-Reproduced flag, available for purchase in varous sizes (including cemetery flags).
Military Headstones and burrial planning
Headstones, Markers, Niche Covers, and Medallions
Find out how to arrange for one of these memorial items.
Headstones, Markers and Medallions
The Department of Veterans Affairs (VA) furnishes upon request, at no charge to the applicant, a Government headstone or marker for the unmarked grave of any deceased eligible Veteran in any cemetery around the world, regardless of their date of death.
Resources for veterans and family members
Veteran Services and Healthcare
Plan a Burial for a Family Member
When a Servicemember or Veteran, spouse, or dependent child dies, the person who plans the burial or memorial service has to take certain steps. Find out what to do if your family member has just died.
U.S. Department of Veterans Affairs
Providing Health Care for Veterans – The Veterans Health Administration is America's largest integrated health care system, serving 9 million enrolled Veterans each year.
American Veterans (AMVETS)
AMVETS is dedicated to leadership, advocacy and service for America's Veterans on issues such as employment and training, mandatory funding for government- provided health care and other benefits to which they are entitled.
Disabled American Veterans
DAV is dedicated to building better lives for America's disabled veterans and their families.
Iraq and Afghanistan Veterans of America (IAVA)
IAVA is dedicated to improving the lives of Iraq and Afghanistan veterans and their families by addressing critical issues facing new veterans, including mental health, the VA system, health care for female veterans, and GI Bill education benefits.
Paralyzed Veterans of America (PVA)
PVA works to enhance the quality of life for veterans of the armed forces who have experienced Spinal Cord Injury/Dysfunction (SCI/D) advocating for quality health care, research and education, veterans' benefits and rights, accessibility and the removal of architectural barriers, sports programs, and disability rights.
Student Veterans of America (SVA)
SVA is an association of student veteran groups from college campuses across the United States. The organization works to develop new student groups, coordinate between existing groups, and advocate on behalf of student veterans at the local, state, and national level.
The American Legion
The American Legion is veteran service organization committed to mentoring and sponsorship of youth programs, advocating patriotism and honor, promoting a strong national security and continued devotion to our fellow service members and Veterans.
Vietnam Veterans of America (VVA)
VVA is dedicated to promoting and supporting the full range of issues important to Vietnam-era veterans and their families.
American Association of Suicidology (AAS)
The goal of AAS is to understand and prevent suicide by promoting research, public awareness programs, public education and training for professionals and volunteers.
American Foundation for Suicide Prevention
The American Foundation for Suicide Prevention is dedicated to preventing suicide, including groundbreaking research, new educational campaigns, innovative demonstration programs and critical policy work.
The Recovery Village – Personalized Addiction Treatment
Many men and women who have bravely served our country are sadly left with painful memories they wish they didn't have. When veterans return to civilian life, many are faced with new battles, including PTSD and drug misuse. In many cases, veterans turn to drugs and alcohol as a way to deal with these thoughts. Learn more, including the many treatment options.
National Strategy for Suicide Prevention (NSSP)
The NSSP is a coordinated effort by both the public and private sectors to prevent and reduce suicide and suicidal behavior. The National Strategy lays out a framework for action and guides development of an array of services and programs.
Home - Projects - News - Honoring Patriots - References - Photos - Other Services - Resources - About - Contact